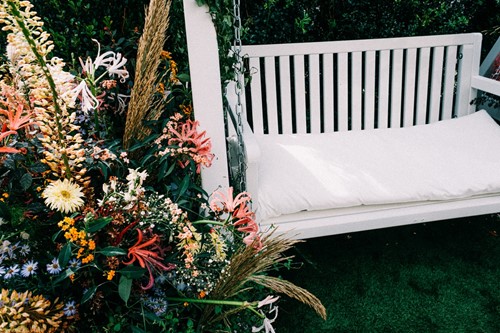 Outdoor furniture trends are constantly changing, so the same can be said for garden and lawn benches. Whether you want an outdoor bench to serve a purely utilitarian purpose or be the focal point of your outdoor design, there are plenty of trends to try.
Here is a quick guide to some of the most popular trends in outdoor benches:
Recycled materials
Recycled materials have come to the forefront of outdoor furniture trends, and benches are no exception. If you want to make sustainable choices for your outdoor living space, consider choosing benches made from recycled wood and plastics.
Choose lawn and garden benches made from recycled tropical wood like teak or acacia. For a contemporary aesthetic, modern recycled plastics come in a variety of textures and colors to mimic other materials like wrought iron.
Industrial outdoors
Industrial style has been a trend in interior design for a long time, but these days it's becoming more prevalent in outdoor furniture as well. Simple and heavy with an emphasis on metals, industrial style benches are perfect for a contemporary porch or patio where you want to create a clean and sophisticated aesthetic.
To make the most of this trend in your outdoor space, opt for black powder coated metal, wrought iron, steel and heavy teak benches. Industrial style benches can be either weathered or pristine, depending on your style preferences.
Perfect pastels
Pastel colors are making waves in outdoor furniture. A pastel bench is the perfect way to bring a bit of subtle color to your patio, lawn or garden. Experiment with different hues such as soft yellow, mint green, pale coral pink and baby blue to try this trend at home.
If you want to add style to your outdoor space, consider these trends in garden and lawn benches. The perfect bench can be a valuable focal point or a beautiful accent to any porch, patio or garden.